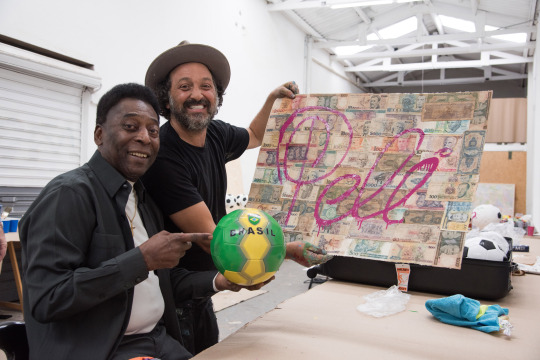 Pelé x Mr Brainwash Collaboration
A new major collaboration took place in August when soccer superstar Pelé met Mr Brainwash in Rio de Janeiro during the Summer Olympic Games.
For their meeting, Mr Brainwash created limited edition artworks, depicting Pelé in the middle of one of his iconic bicycle kicks – in an explosion of color and motion.
Throughout an entire afternoon and over a soundtrack of Brazilian music selected by the former soccer player, the two painted large canvases together and added splatters of paint to the artworks previously created.
Pelé even took the time to sign and stamp his thumbprint on each piece.
This is the second Olympic Games for Mr Brainwash; in 2012, during the Summer Olympic Games in London, the artist made his UK debut by invading The Old Sorting Office, a colossal space, steps from the British Museum.
One of the most popular installation was the famous Olympic rings, dripping their colors, arranged with old spray cans.