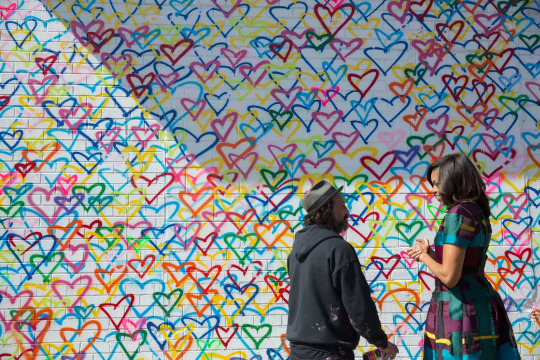 Mural in Washington D.C. For International Women's Day
Mr Brainwash unveiled a series of murals on Union Market in Washington, D.C. with First Lady Michelle Obama to celebrate International Women's Day with the Let Girls Learn, the Obama Administration's initiative to help adolescent girls worldwide attend and complete school.
The artist created other images, artworks that featured messages and iconic imagery on Union Market's exterior.
First Lady Michelle Obama was on-site at the Northeast Union Market district on Tuesday to celebrate the first anniversary of Let Girls Learn and asked Mr Brainwash to teach her how to spray paint. Together they added a few more hearts and signed the inspiring work of art.
Mural in Washington D.C. For International Women's Day